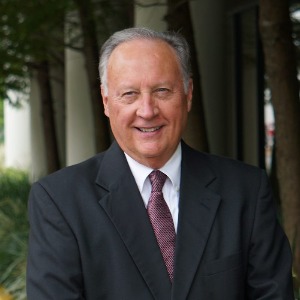 Randel Chapman pictured above
---
Mr. Randel Chapman began his banking career in 1972 working for Guaranty Bank of Mamou, in Mamou, Louisiana. Shortly thereafter he accepted a position with The Evangeline Bank and Trust Company located in Ville Platte, Louisiana in 1973. During this period, Mr. Chapman worked in every department of the bank.

In 1978, Mr. Chapman, along with several local business people, organized a new savings and loan company. Mr. Chapman was the manager and successfully managed First Federal Savings and Loan Association until 1983. In 1983, he was asked to join the staff of Citizens Bank of Ville Platte and worked as a loan officer until 1988.
Mr. Chapman accepted a position of CEO of The Evangeline Bank and Trust Company and currently holds that position, as well as President and Chairman of the Board.
He has held many positions during his career with The Evangeline Bank and Trust Company:
Chairman of the Board

President

Chief Executive Officer

Chief Financial Officer

Chief Trust Officer

Chief Investment Officer
Mr. Randel Chapman has been married for 45 years. He and his wife have three children, all boys, and nine grandchildren. In his spare time, he enjoys fishing, cooking, and attending his grandchildren's activities.