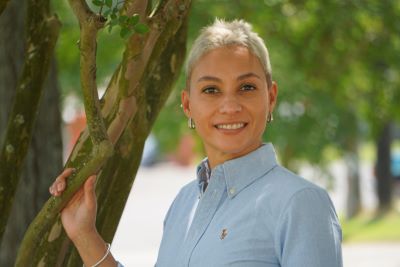 Candace Papillion pictured above
---
Candace has over 10 years' experience in the finance industry assisting clients with their lending and borrowing needs. Candace's main focus is on understanding her clients through a needs met strategy to align clients' needs with available products and/or services.
Candace has extensive years of branch management experience and working alongside with coworkers to achieve company goals and objectives. Candace's customer experience and sales skills are only outshone by her warm and welcoming smile.
Candace most recently worked as an executive assistant, where she was instrumental in providing confidential administrative assistance to the CEO of Southwest Fidelity.
Education:
Graduate of Eunice High School
Major in Liberal Arts - LSUE
Candace spends a considerable amount of her time and effort giving back to her community. She is a life-long resident of the Swords Community, and she is an active member of St. Ann Catholic Church in Mallet, Louisiana. Candace also participates in various civic, school, and fundraiser events throughout St. Landry Parish.
Community Involvement:
Member of St. Landry Parish Chamber of Commerce
Member of One Acadiana
Vice President of Opelousas Main Street Board
Treasurer of the Opelousas Catholic Parent Teacher Organization Board

"I have a vision for The Evangeline Bank and Trust Company, as a branch manager, to grow and expand all products and services. My mission is to be inclusive with all area businesses and people to grow The Evangeline Bank and Trust Company into where my Vision and Mission Statement will become a reality."